Downtown Stuart is at the heart of Stuart's Shop Local movement with dozens of unique, independently owned boutiques featuring everything from fine art and home décor to jewelry, shoes, and accessories, men's and women's fashion, and fun things for kids too – plus sweets, treats, and one of a kind local mementos.
---
Agape 4 Flowers 15 SE Osceola St. Stuart, Fla. 772-210-6418 http://www.agape4flowers.com Agape 4 Flowers is a Floral Couture and Design Studio. Agape offers luxury design pieces inspired by nature. Customers can build their bouquets, custom orders, workshops, and pick up & delivery provided to nearby areas. #Givelove
---
April Daze 308 Colorado Ave. Stuart, FL 34994 (772) 221-1062 Website This retro-inspired boutique offers a captivating selection of home decor, fine wines and women's clothing, jewelry and accessories. Exclusively featuring Charles Albert Sterling Silver and Lucky Brand jeans. April Daze will supercede all of your shopping expectations.
---
Clam Shell Clothiers 6 SW Osceola St. Stuart, FL 34994 (772) 287-4555 Take Our Virtual Tour
A unique shopping experience for a casual Women's lifestyle. Clothing, jewelry and accessories are carefully selected for fashion, comfort and quality.
---
Decorators Finest 32 SE Osceola Street 772-220-5850 Decoratorsfinest.com Our Boutiques not only offer Award winning Interior Design Services, they feature, beautifully selected items for the home. Our Sales Specialists will help you select that very unique gift for birthday, baby or just because. We celebrate the relaxed, easy living lifestyle, that Historic Downtown is all about. Come see what the buzz is all about !!
---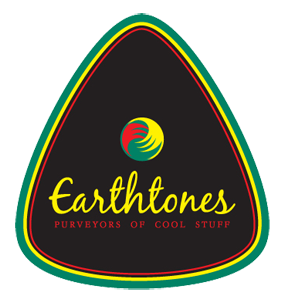 Earthtones 43 SW Osceola Street Stuart, FL 34994 (772) 288-1010 Facebook [email protected]
Earthtones was born in the spirit of fun and revelry. A celebration of "cool stuff" is constantly sought after, collected, and assembled, creating a curious blend of whimsical and precocious merchandise. Make no mistake about it, a journey through Earthtones will leave you inspired, intrigued and impressed. And, by the way, you may feel like dancing and laughing while you shop…
---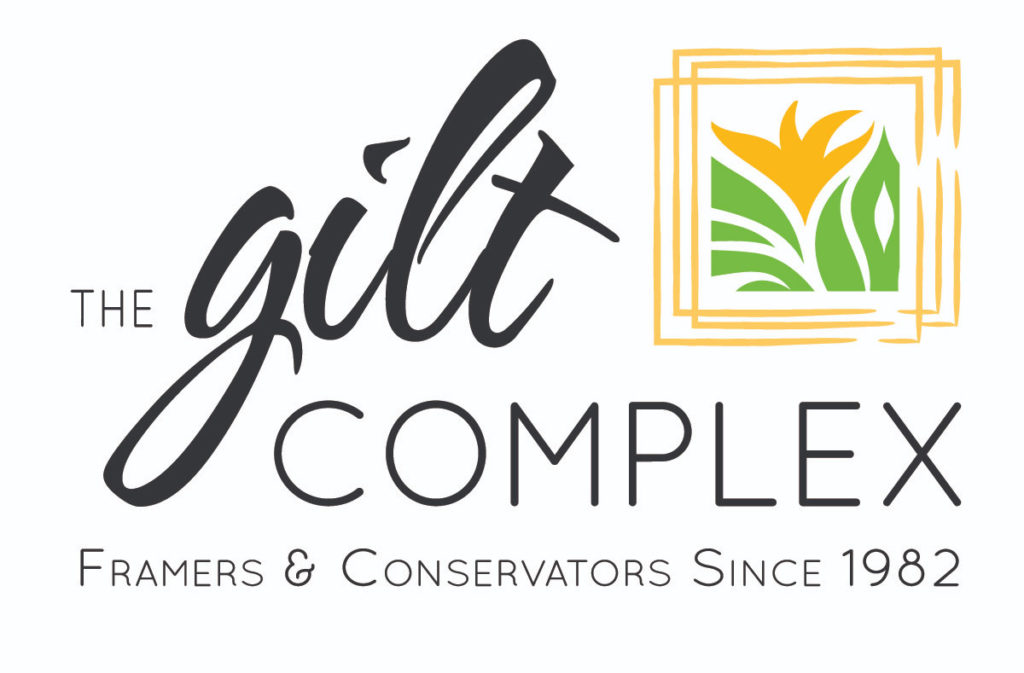 The Gilt Complex 608 Colorado Avenue Stuart, Florida (772) 463-0125 http://www.TheGiltComplex.com Since 1982, The Gilt Complex has provided custom framing and art conservation to private residences, galleries, museums, corporations, architects and interior designers. We have one of the largest and most diverse collections of frames in south Florida. Recognized for our professional expertise, superb craftsmanship and personalized service, we frame and restore original art, prints, documents, maps, memorabilia and mirrors.
---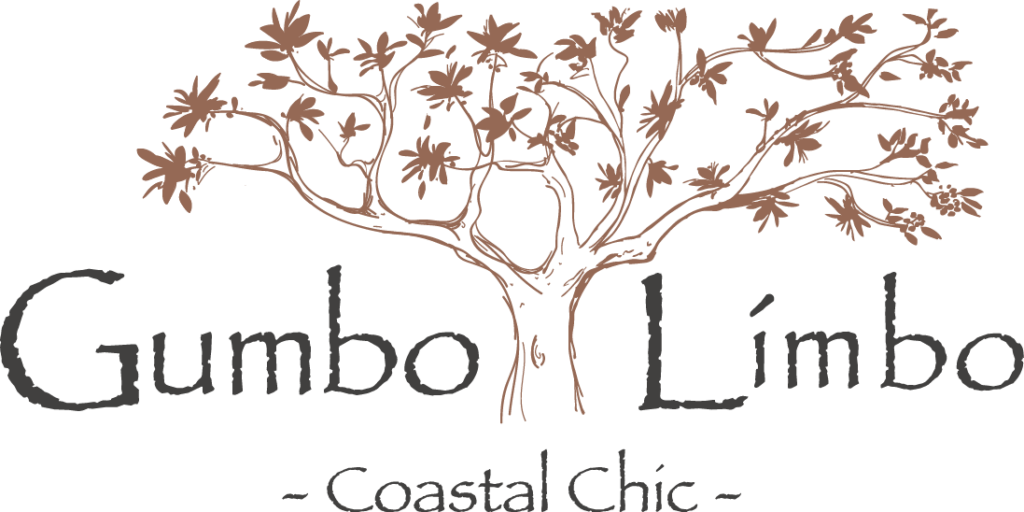 Gumbo Limbo Coastal Chic 37 SW Osceola Street Stuart, FL 34994 (772) 283-1077 www.gumbolimbogifts.com Facebook
Gumbo Limbo Coastal Chic is a unique collection of coastal inspired home décor, unique gifts, original art and much more! We are proud to announce we are now an Alex and Ani "Shop within a Shop" retailer! Come and see our beautiful new displays and Alex and Ani collections. Looking for the Spartina 449 Collection….Scout…Dash and Albert…Gumbo Limbo Coastal Chic has them all and we are a Mud Pie Blue Ribbon retailer! Follow us on Facebook and Instagram.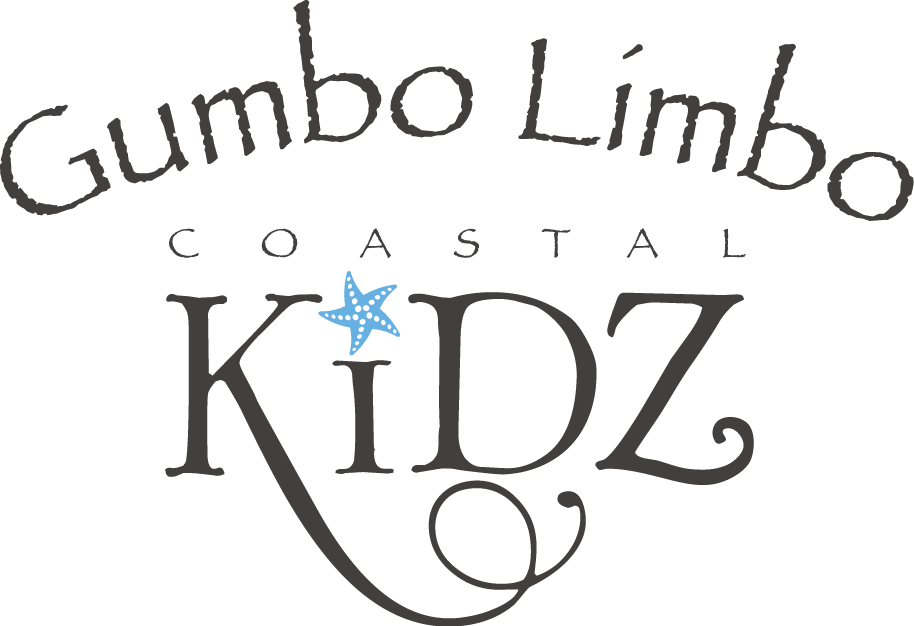 Gumbo Limbo Coastal Kidz 39 SW Osceola Street Stuart, FL 34994 772-283-1016 www.gumbolimbogifts.com Facebook A one of a kind boutique for babies and children… featuring Mudpie Kids, Kissy Kissy, Lemon Loves Lime, Chewbeads, Havaianas, Gretchen Scott and more! Gifts, creative playthings and accessories for children and Moms.
---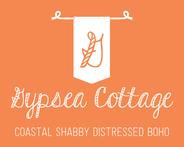 The GypSea Cottage 49 SW Osceola Street Stuart, Florida (772)291-2788 https://thegypseacottage.com/
Gypsea Cottage is a wonderland for the salty soul. Coastal living apparel, furnishings, gifts and more. Kristen brings her unique buying, artistic merchandising and authentic selling expertise to the shop. The GypSea Cottage a darling coastal boutique nothing short of a quick trip to paradise. Kristen welcomes you to shop in person or find the full boutique online. This small business owner, entrepreneur and beach lover invites you to come on in and soothe your salty soul.
---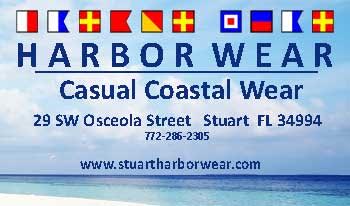 Harbor Wear 307 S Colorado Avenue Haney Square Shops Stuart, FL (772) 286-2305 www.stuartharborwear.com
Casual affordable resort clothing for women and men. We feature Fresh Produce, Life is Good, Jams World, Rum Reggae, Weekender, Hook & Tackle, Coobie bras and Cottonseed. Stuart and Hutchinson Island Tee's, and sweatshirts for sizes 6months to 3X. Seaglass jewelry, beach hats and totes, unusual gifts and accessories for yourself and everyone on your list.
---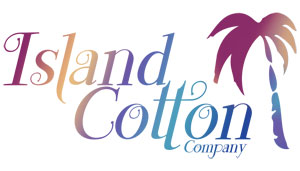 Island Cotton Co. 53 SW Flagler Ave. Stuart, Fl 34994 (772) 600-8014 www.islandcotton.com Clothing for the resort lifestyle.
---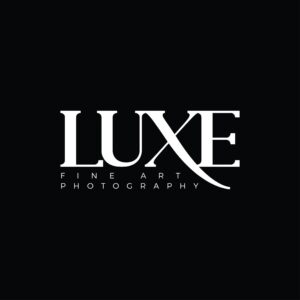 Luxe Fine Art Photography 313 SW Albany Ave Stuart, FL 34994 772-882-6436 Luxe Fine Art Photography is a woman owned and run luxury photo boutique experience. Our service strives for excellence in capturing your legacy.
---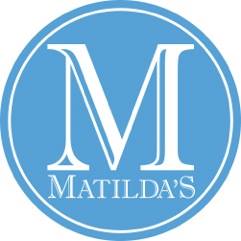 Matilda's 15 SW Flagler Stuart, FL 34994 (772) 221-8280 www.matildasofstuart.com
Matilda's is located in the heart of the Historic Downtown Shopping District of Stuart, Florida. Nestled just a stone's throw from the river, the boutique instantly captures the essence of beach chic living. Matilda's showcases home gift design resort wear wedding baby accessories and endless style…. a little shop filled with coastal wonder and inspiration!
---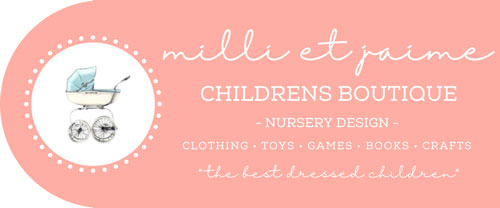 Milli et Jaime Children's Boutique and Fine Clothier Nursery Design toys•games •books •crafts "The Best Dressed Children"
48 SE Osceola St, Stuart, FL 34994 (772) 247-7293
---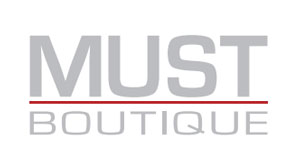 Must Boutique 13 SW Osceola Stuart, FL 34994 772-678-6033
Must Boutique offers the finest fashions from Italy. We specialize in natural fabrics like linen and silk. We are located in beautiful downtown Stuart.
---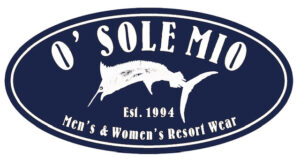 O'Sole Mio 5 SW Osceola Street Stuart, Florida 34994 (772) 286-2300 (Store)
O'Sole Mio offers a tremendous selection in men's and women's active/golf wear in the latest UPF sun protection fabric. We have the largest selection of Tommy Bahama, Vineyard Vines, Southern Tide and Peter Millar on the Treasure Coast. Thank you for shopping local!
---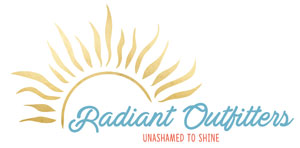 Radiant Outfitters 45 SW Osceola Steet Stuart, Florida (772) 872-6595 Ladies, "Radiant Outfitters" is a "must see" fashion boutique in downtown Stuart that offers the largest selection of Clara Sun Woo, and features many of the latest clothing and jewelry brands such as" Nic & Zoe, Joules, Dolcezza, Uno De 50, Aryeh, Wearables, Cut Loose, Good Works, Fridaze, and many more! Stop by "Radiant Outfitters" on Osceola Street and get your style on! Like us on Facebook at "Radiant Outfitters.com". Come on in and SHINE with us!
---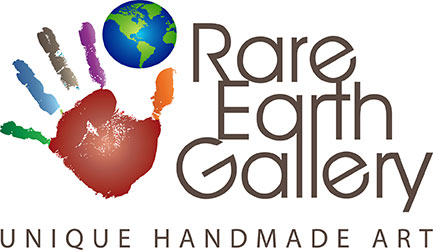 Rare Earth Gallery 41 SW Flagler 772-287-7744 or Toll-Free 877-287-7744 Take a virtual tour. Visit rareearthgallery.com.
---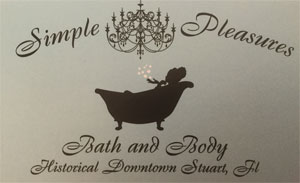 Simple Pleasures Bath and Body 306 Colorado Avenue Stuart, Fl. 34994 772-288-3710 Simple Pleasures Bath and Body is a high end luxury boutique of the finest products for bathing and skin care. All the lines carried are made in America from Archipelago of California to Beekman 1802 of New York. Spa Candles and Diffusers, Bath Salts and Lotions ,Beautiful Sleepwear and Accessories and a dazzling variety of Soaps and Rubber Duckies are all part of the Simple Pleasures experience.
---
Snappy Shack 29 SW Osceola St. Stuart, FL 34994 (772) 247-7402 http://www.snappy-turtle.com
Our humble little journey began with Carole's Canvas Company. This laid the groundwork for the first Snappy Turtle outlet which opened in 1982 in Kennebunkport, Maine. We found that an awful lot of people were looking to dress and accessorize with flair without sacrificing their elegance. Vibrancy meets proper. We call it "preppy with a twist." Catchy, right? From this adventure she discovered two things: a refined taste in fashion canvas bags and her love with the colors green and pink. We provide year round resort wear including a large amount of sandals with amazing combinations that we carry exclusively. Come stop by Snappy Shack. Despite our name, we promise we don't bite.
---
Tootsies 39 SW Flagler Avenue (772) 288-7008 Facebook Email [email protected] or [email protected] Manis, pedis and shoes! Affordable and adorable. Treat your feet!
---
VÊTU 20 SW Osceola St. Stuart, Florida (561) 284-9396 https://www.vêtu.com Alterations boutique
---
VictoriaRose 311 Colorado Ave Stuart, Florida (772) 283-1242 VictoriaRose, Women's Boutique located on confusion corner features the largest selection of FLAX clothing on the Treasure Coast. ou can compliment your style with artisan clothing and accessories from around the world. A visit to our nightwear corner is sure to bring sweet dreams your way.