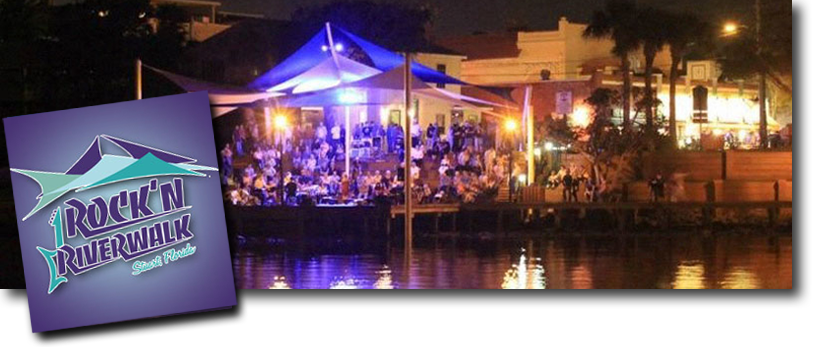 Rock'n Riverwalk
The weekly waterfront Rock'n Riverwalk concert series has established Downtown Stuart as the center of Martin County's live music community. Hundreds of music lovers come out every Sunday from 1:00-4:00 pm for live rock, blues, country, R & B, reggae and more on the waterfront every week year-round. These free concerts are completely funded by donations and fundraising by Downtown organizations.
Support Rock'n RIverwalk
The Downtown Business Association and Stuart Main Street work year round to raise money to support Rock'n RIverwalk. To make a donation to support this free community concert series, or become a sponsor, visit the Rock'n RIverwalk website.
www.rocknriverwalk.com/become-a-sponsor
Schedule
We are proud to host local, regional, and touring national acts on the RIverwalk Stage. Schedules are announced seasonally, but may change unexpectedly due to reasons outside our control. For a schedule of upcoming concerts visit the Rock'n RIverwalk website.
www.rocknriverwalk.com/event
Updates and Cancellations
Although we do everything we can to make sure Rock'n RIverwalk concerts go on as scheduled, sometimes weather or other issues can cause a last minute change or cancellation. For updated concert information the day of the show, visit our Facebook page.
www.facebook.com/RocknRiverwalk
Another virtual Rock'n Riverwalk concert will be held this Sunday, May 10 from 1-4pm with live music from Quick Tease.
Watch it live on the Rock'n Riverwalk Facebook page.
Brought to you by Earthtones, TC Nightlife, Mulligan's Beach House Bar & Grill, Vine & Barley Stuart, the Historic Stuart Downtown Business Association, Teleperformance, the City of Stuart, Mark Brechbill, Boathouse, UBU Brands, Coast 101.3, Seacoast Bank, Snyder Marketing, Martin County Tourism, and the Stuart Green Market.